TO ALL MEMBERS
13 September 2023
CORRECTION TO COMMUNITY MEETING TIME
Member Ratification Protocol Referendum Community Meeting #2 Sunday 24 September 2023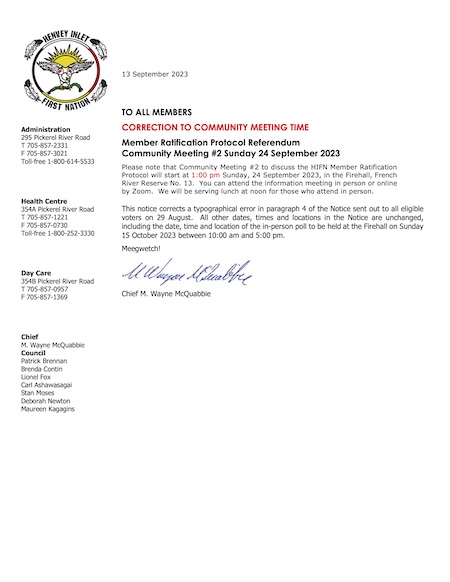 Please note that Community Meeting #2 to discuss the HIFN Member Ratification Protocol will start at 1:00 pm Sunday, 24 September 2023, in the Firehall, French River Reserve No. 13. You can attend the information meeting in person or online by Zoom. We will be serving lunch at noon for those who attend in person.
This notice corrects a typographical error in paragraph 4 of the Notice sent out to all eligible voters on 29 August. All other dates, times and locations in the Notice are unchanged, including the date, time and location of the in-person poll to be held at the Firehall on Sunday 15 October 2023 between 10:00 am and 5:00 pm.
Meegwetch!
Chief M. Wayne McQuabbie
You can read the notice by Clicking Here.