Draft Membership Code Community Consultation April 12 2023 Membership Notice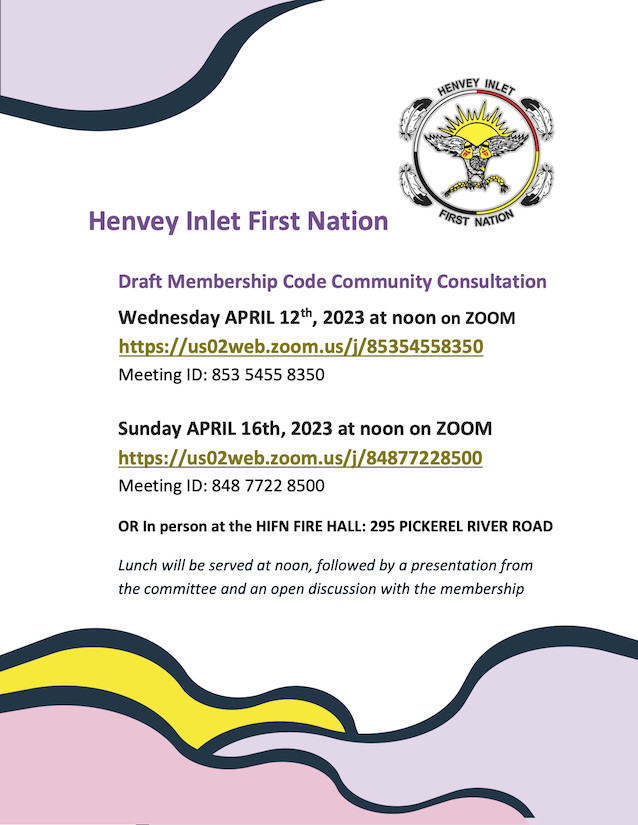 MEMORANDUM
To: Voting Members of Henvey Inlet First Nation
From: Membership Committee
Date: 2023-03-08
Re: Draft Membership Code Community Consultation
Aniin Bozhoo Henvey Inlet Membership,
We invite you to our third community consultation. We will host two meetings in attempts to meet everyone's busy schedules. The first meeting will be held Wed April 12th, 2023 at noon in the Henvey Inlet Fire Hall. The meeting will also be available on zoom. The second meeting will present the same information and will be held on Sunday April 16th, 2023 at noon in the firehall and on zoom.
The meetings will begin with lunch, followed by the presentation and ending with your feedback.
Your membership committee has been meeting regularly in order to develop a membership code you can be proud of and we couldn't do this without your input.
We look forward to meeting with you and hearing your feedback,
Henvey Inlet First Nation Membership Committee.
Draft Membership Code Community Consultation
Wednesday APRIL 12th, 2023 at noon on ZOOM
https://us02web.zoom.us/j/85354558350
Meeting ID: 853 5455 8350
Sunday APRIL 16th, 2023 at noon on ZOOM
https://us02web.zoom.us/j/84877228500
Meeting ID: 848 7722 8500
OR In person at the HIFN FIRE HALL: 295 PICKEREL RIVER ROAD
Lunch will be served at noon, followed by a presentation from the committee and an open discussion with the membership