Proposed New Law Governing Ratification Votes
TO ALL MEMBERS
Proposed New Law Governing Ratification Votes
As most of you will be aware, HIFN's Membership Code Working Group has developed a new "restated" membership code intended to replace our existing 1987 Code. The Restated Code will complete the process of taking sovereignty over membership, get rid of the old code's reliance on the Indian Act and give effect to with our own beliefs about who belongs on our membership list.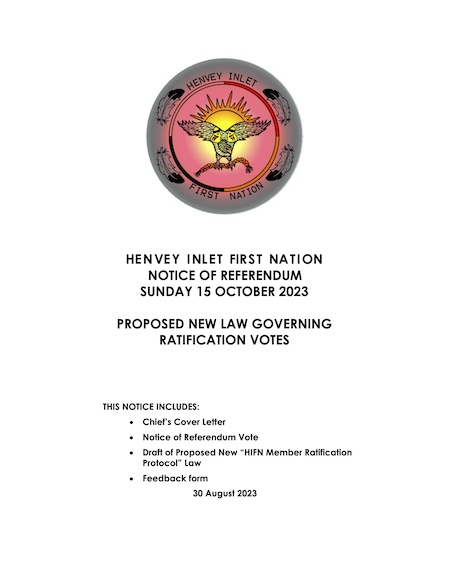 However, neither the Indian Act nor our 1987 Code contain rules on how to do a membership code amendment. We have encountered this issue in some other matters, such as making environmental laws. We need to adopt our own amending formula, based on our inherent jurisdiction and custom, to address these situations.
The proposed law: A new draft law entitled "HIFN Member Ratification Protocol" is included in this Notice, which states that, where no voting formula is prescribed by law, a matter must be approved by a majority of 50% plus one of the votes of the eligible voters AND, to ensure matters are not decided by too small a voter turnout, a vote will only count if a minimum of 10% of the eligible voters cast votes. These rules are the same as for member approval for a land law under our Land Code (2nd try). We want to use this previously-approved standard more broadly.
Community Meetings: Community Meetings to discuss the HIFN Member Ratification Protocol will be held prior to the vote, which you can attend in person or online by Zoom:
Community Meeting #1
Tuesday 19 September 2023, dinner for those who attend in person at 5:00 pm, meeting starts at 6:00 pm
Community Meeting #2
Sunday 24 September 2023, lunch for those who attend in person at noon, meeting starts at 1:00 pm
Voting: You can vote on the new law anytime on-line through OneFeather.ca, by mail-in ballot or in person at the Firehall on Sunday 15 October 2023 between 10:00 am and 5:00 pm.
If the eligible voters approve the "HIFN Member Ratification Protocol", Council will enact it as a law of our First Nation pursuant to our inherent jurisdiction to pass laws governing ourselves on internal matters.
Meegwetch!
Chief M. Wayne McQuabbie